Frequently Asked Questions
General
"Where does the word 'hedonometer' come from?"
The economist Francis Edgeworth coined the term in the late 1800's to describe "an ideally perfect instrument, a psychophysical machine, continually registering the height of pleasure experienced by an individual." [wikipedia]
---
"How are words assigned a happiness score?"
To quantify the happiness of the atoms of language, we merged the 5,000 most frequent words from a collection of four corpora: Google Books, New York Times articles, Music Lyrics, and Twitter messages, resulting in a composite set of roughly 10,000 unique words. Using Amazon's Mechanical Turk service, we had each of these words scored on a nine point scale of happiness: (1) sad to (9) happy. You can explore the average scores of each word on our words page, or download the entire list from the publication supplement here.
---
"What is being measured by the instrument?"
hedonometer.org currently measures Twitter's Gardenhose feed, a random sampling of roughly 50 million (10%) of all messages posted to the service, comprising roughly 100GB of raw JSON each day. Words in messages written in English are thrown into a large bag (containing roughly 100 million words per day), and the bag is assigned a happiness score based on the average happiness score of the words contained within.
---
"If this is an instrument, it should have a knob somewhere."
Is that even a question? Well, we do have a knob. It allows us to tune the relative importance of the most emotionally charged words by removing neutral words from consideration when determining the happiness of a given day. It also allows us to remove words that receive widely varying scores when rated on Mechanical Turk. Many profanities received average ratings between 4 and 6 due to the bimodal nature of their word score distribution. Details on the choice of Δ havg = 1 can be found in figure 2 of the publication listed below. We also mask a small set of words with average sentiment outside of the neutral range, whose scores we determined to be inappopriate for the task.
---
"What does the hedonometer say about people who don't tweet?"
Tweets represent a non-uniform subsampling of all utterances made by a non-representative subpopulation of all people. However, there are hundreds of millions of people presently using the website to express their activities and interests, and as such it is an important social signal.
---
"What about the demographics of Twitter? Aren't they non-representative?"
Yes! And Twitter's demographics have also changed over time. Nevertheless, we're using Twitter as our initial data source for a few reasons:
We have found that our measure of happiness correlates very well with traditional surveys of well-being (see here for details).
Twitter provides a stern test for our instrument due to the enormous amount of data we receive and must process in real time.
We can focus in on Twitter communities to gain a sense of what people are expressing (e.g., countries and cities); and
Twitter continues to become a more and more important collective, global media voice, and is thus an important story in itself worthy of scientific analysis.
---
"Why does the day of Osama Bin Laden's death have such a low happiness score?"
Many people presume this day will be one of clear positivity. While we do see positive words such as "celebration" appearing, the overall language of the day on Twitter reflected that a very negatively viewed character met a very negative end. It was a day of complex emotion which is best explored in the word shift for the day, rather than the single number of its average happiness.
---
"Where can I learn more about the hedonometer and other work being carried out by the Computational Story Lab?"
In our Computational Story Lab blog we describe research projects in which we use our hedonometer to characterize happiness variations with respect to geography, network topology, demographics, and socio-economic data. For example, here's a map of the US with cities colored by happiness: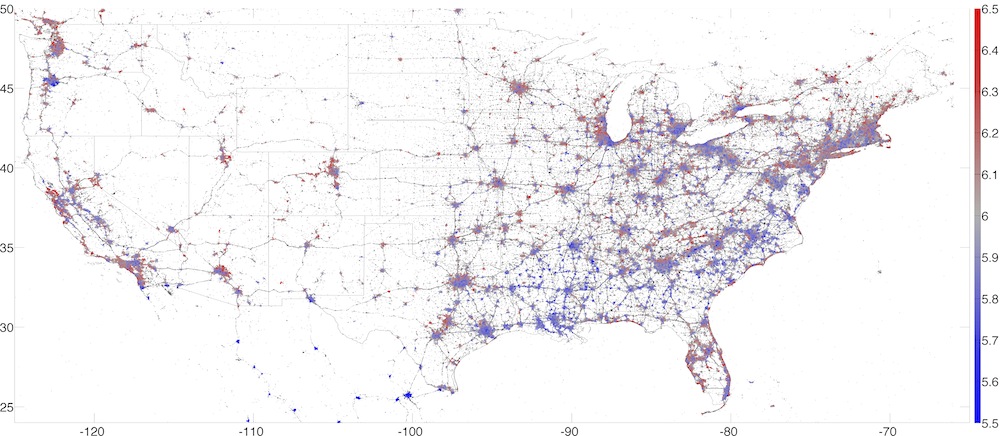 For the full story of our hedonometer algorithm, please read our foundational paper describing its construction: